Een interactieve voorstelling van een bijzondere groep Iraniërs in Rotterdam
متن پارسی در زیر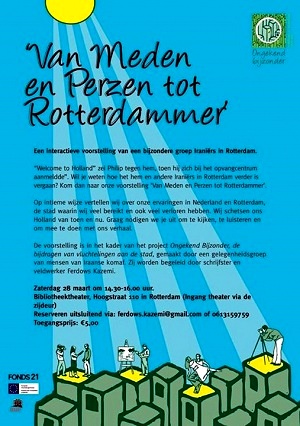 "Welcome to Holland" zei Philip tegen hem, toen hij zich bij het opvangcentrum aanmeldde".
Wil je weten hoe het hem en andere Iraniërs in Rotterdam verder is vergaan?…
Op intieme wijze vertellen zij over hun ervaringen in Nederland en Rotterdam, de stad waarin zij veel bereikt en ook veel verloren hebben. Zij schetsen hun Holland van toen en nu en nodigen je uit om te kijken, te luisteren en om mee te doen met hun verhaal.
De voorstelling wordt gemaakt door een gelegenheidsgroep van mensen van Perzische (Iraanse) komaf die in het kader van het project Ongekend Bijzonder, de bijdragen van vluchtelingen aan de stad, bijeenkomen. Zij worden begeleid door schrijfster/veldwerker Ferdows Kazemi.
Het evenement bevat ook een 15 minuten durend Perzische pianomuziek van Pejman Akbarzadeh.
Zaterdag, 28 maart 2015 om 14.30-16.00 uur
Bibliotheektheater, Hoogstraat 110 in Rotterdam
Ingang theater via de zijdeur.
Reserveren uitsluitend via: ferdows.kazemi@gmail.com of 0613159759
Toegangsprijs: €5,00


* Volg "Persian Dutch Network" op Facebook
* DIGITALE NIEUWSBRIEF: Mogen we u op de hoogte houden van PDN activiteiten?  Mail naar:  info@persiandutch.com
برنامه داستان‌های زندگی پناهندگان ایرانی در روتردام
در روز ۲۸ مارس در روتردام برنامه‌ای ویژه خاطرات زندگی پناهندگان ایرانی برگزار می‌شود. این برنامه که در کتابخانه مرکزی روتردام به کوشش فردوس کاظمی، روزنامه نگار ایرانی مقیم هلند سازماندهی شده در واقع بخشی از پروژه "ناشناخته و ویژه " است.
به گزارش "شبکه ایرانیان هلند"، این پروژه در تلاش است داستان زندگی پناهندگان ازملیت های گوناگون در هلند را گردآوری کند؛ داستان‌هایی از زندگی آنها در پیوند با محل زندگی یا کار آنها در هلند. پشتیبان اصلی این طرح، سازمان "بی ان پی" (سازمان توانمندسازی مشارکت های اجتماعی) است.
در برنامه ۲۸ مارس، علاوه بر ارائه داستان، اجرای رقص و موسیقی نیز گنجانده شده است. داستان ها به زبان هلندی خوانده می شوند. شماره تلفن برای دریافت اطلاعات: 06.13.15.97.59
به فیس‌بوک شبکه ایرانیان هلند بیپوندید
برای دریافت خبرنامه رایگان شبکه ایرانیان هلند به ما ایمیل بزنید:ا
info@persiandutch.com