متن پارسی در ادامه – English version below
Perzische feminisme in een tentoonstelling
PDN – In de Amsterdamse gallerie Framer Framed loopt een tentoonstelling over het feminism in Perzië [Iran]. De opening vond afgelopen zondag plaats en trok al gelijk honderd bezoekers.
Azadeh Faterad is de conservator van deze expostie. Zij kon door problemen met het verkrijgen van een visum niet bij de opening zijn, maar was door een videoverbinding toch aanwezig. Rezvan Moghaddam, een Perzische activist vrouwenrechten die op dit moment in Amsterdam verblijft, was wel aanwezig en gaf inzicht in de situatie voor vrouwen die in Iran gelijke rechten ter sprake brengen. (VIDEO)
De tentonstelling 'Iran's Women's Movement: on the Archive of Sadiqe Dowlatabadi'  toont documenten over de activiteiten van de vrouw die al in 1919 voor gelijke rechten opkwam. Dowlatabadi publiceerde dat jaar de eerste uitgave van Zabab-e Zanan (De stem van Vrouwen), een tijdschrift voor vrouwen in de Perzische taal.
Volgens een persbericht van Framer Framed, "De relevantie van het archiefmateriaal wordt benadrukt door het te koppelen aan de hedendaagse context van het vrouwenbestaan in post-revolutionair Iran."
NEDERLANDSE VERSIE: Ed Coenen
____________

PDN – The Amsterdam-based gallery Framer Framed is hosting an exhibition focused on Persian feminism, "Iran's Women's Movement: On the Archive of Dowlatabadi." The exhibit opening was attended by around 100 people on Sunday, February 7, 2016. It features documents from Persian pioneer women's rights activist Sadiqe Dowlatabadi along with video and photographic works by artist and curator Azadeh Fatehrad. The exhibit will be on display until March 8, 2016.
Fatehrad was unable to attend the opening due to visa  issues, so a video presentation of her was played for those attending. Women's rights activist Rezvan Moghaddam was present to deliver a talk outlining the critical situation of women's rights activists in Iran. (VIDEO)
Among the documents on display are covers from the first Persian-language women's gazette in Isfahan called Zaban-e Zanan (Voice of Women). The gazette was first published in 1918.
The exhibition highlights the successes that Dowlatabadi achieved in the early 20th century and the relevance of the archival material to the contemporary context of women's life in post-revolutionary Iran (1979-present).
Fore more information visit the website of Framer Framed in Amsterdam.
* Join the Facebook page of Persian Dutch Network



* * To receive PDN monthly  free online newsletter send an e-mail to:
    info@persiandutch.com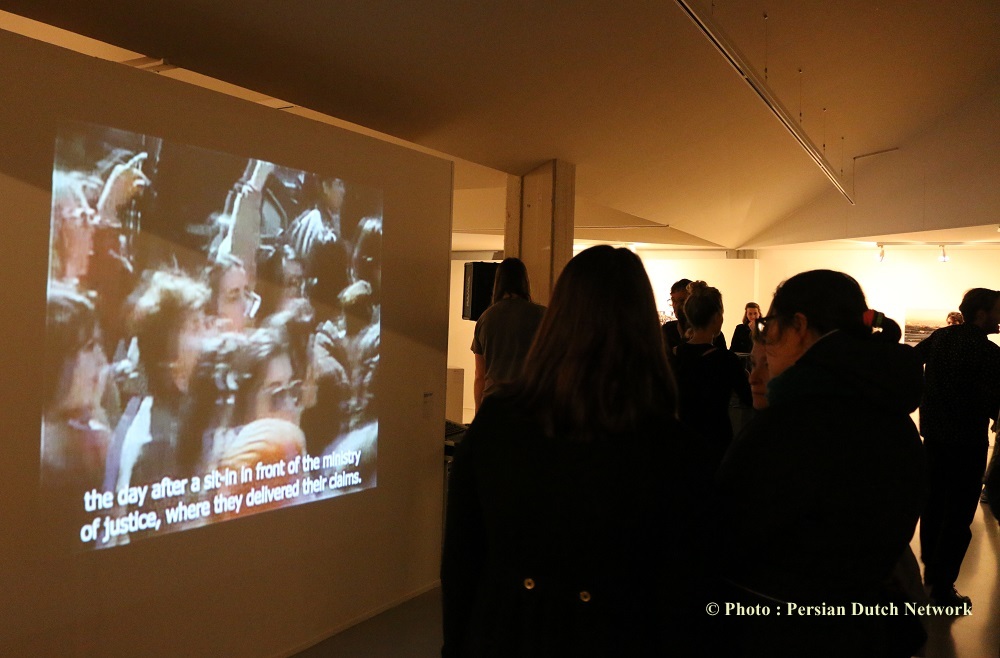 هفتم فوریه ۲۰۱۶ در گالری فرامر فرامد در آمستردام، نمایشگاهی در پیوند با پیشینه مبارزه زنان ایرانی برای کسب حقوق برابر، آغاز به کار کرد. سرپرست هنری این نمایشگاه آزاده فاتح راد است که به دلیل مشکلات دریافت ویزای هلند نتوانست در مراسم گشایش نمایشگاه شرکت کند. ا
تمرکز اصلی نمایشگاه روی فعالیت های صدیقه دولت آبادی، از پیشگامان جنبش زنان است که در سال ۱۹۱۹ برای نخستین بار در اصفهان، روزنامه ای به زبان پارسی درباره حقوق زن به چاپ رساند.ا
مراسم گشایش نمایشگاه در آمستردام با حضور حدود یکصد نفر از علاقه مندان برگزار شد و در آن ضمن پخش پیام ویدئویی سرپرست هنری نمایشگاه، رضوان مقدم، فعال باسابقه حقوق زنان نیز سخنرانی کرد. او از شرایط موجود در ایران به شدت انتقاد کرد و ضمن اشاره به انتخابات پیش رو گفت، "زنان حق رییس جمهور شدن ندارند ولی از رای آنها برای به قدرت رسیدن مردان  استفاده می شود." مقدم همچنین به از دست رفتن حقوق به دست آمده برای زنان در زمان پهلوی اشاره کرد و گفت: "جایی که ما زنان ایرانی اکنون ایستاده ایم از پنجاه سال پیش هم عقب تر است".ا
مقدم همچنین از پیشگامان جنبش زنان درایران مانند طاهره قره العین نام برد؛ وی در سال ۱۸۴۸ برای  نخستین بار در یک گردهمایی عمومی روبنده از چهره برداشت و در سال ۱۸۵۲به دلیل دگر اندیشی اعدام شد. ا
ویدئوی بخشی از این سخنرانی را بینید.ا
به فیس بوک شبکه ایرانیان هلند بپیوندید
برای دریافت خبرنامه رایگان شبکه ایرانیان هلند به ما ایمیل بزنید
info@persiandutch.com