24 September 2015 to 28 March 2016
Dutch Text Below – متن پارسی در زیر

As one of the world's most ancient cultures, the Persians produced a vast array of beautiful objects. Persian poems, tapestries, and architecture are quite famous, but the civilization's other art form: weapons is often forgotten. This is the motivation behind the exhibition 'The Persians – Warriors and Poets' at the Wereldmuseum in Rotterdam.
According to Mark Hoos, the curator of the exhibition, "Persian warriors had to fend off a whole host of intruders, such as the Arabic caliphate, the Mongols of Ghengis Khan, the Mughal Empire of India, and the Ottoman Empire. After a long period of devastating conflicts, the Safavid dynasty, ruling from 1501-1736, was able to reunite Persia."
Safavids created a large empire and oversaw the establishment of Shi'a Islam as its official religion; different from Turks and Arabs who are mostly Sunni. In Persia (or Iran) the Safavid dynasty was a period of cultural flourishing which witnessed the production of magnificent tapestries and the development of colourful and luxurious materials. Persian weapons and coats of armour were inlaid with gold and silver and opulently decorated with arabesques, verses from the Quran, and pious inscriptions. These expressions of faith were thought to bring blessings to the warrior and protect them from harm.
You can visit 'The Persians – Warriors and Poets' from 24 September 2015 up to and including 28 March 2016 at the Wereldmuseum in Rotterdam. The exhibition has been put together from the collections of Stibbert Museum in Florence and of the Wereldmuseum itself.
UPDATE:
Video: Highlights of the exhibition:

* Join the Facebook Page of Persian Dutch Network (PDN)
* * To receive PDN monthly  free online newsletter send an e-mail to:
    info@persiandutch.com
"De Perzen" komen naar Rotterdam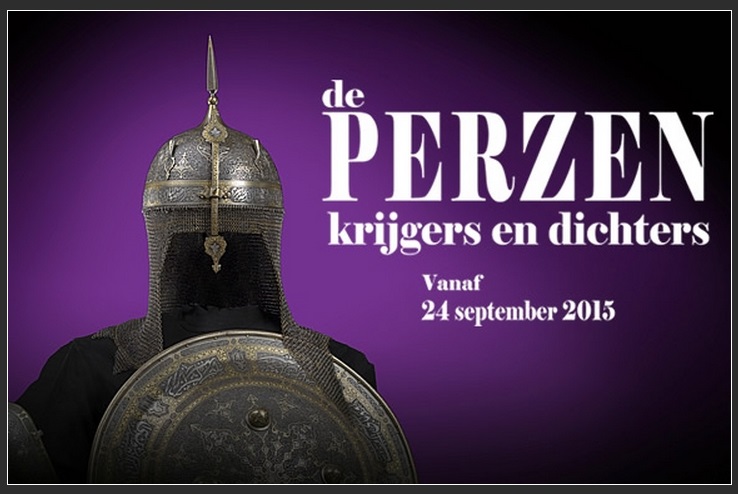 De Perzische cultuur – één van de oudste van de wereld – heeft grote schoonheid voortgebracht. Gedichten, tapijtkunst en architectuur zijn bekend, maar wat we veel minder kennen is de kunst van de wapens.
Het Wereldmuseum in Rotterdam presenteert vanaf 24 september 2015 de tentoonstelling 'De Perzen, krijgers en dichters'. Met prachtig gedecoreerde zwaarden, dolken, schilden, helmen, harnassen en ruiters te paard, zeldzame laktableaus, miniaturen, verfijnde weefsels en aardewerk, én meer dan 100 topstukken uit het Museo Stibbert uit Florence, krijgt de bezoeker een volledig overzicht van de Perzische (Iraanse) cultuur van de 16e t/m de 19e eeuw.
Volgens curator Mark Hoos: "De Perzische krijgers streden tegen vele indringers: het Arabisch kalifaat, de Mongolen van Dzjengis Khan, de Maghul uit India en de Turkse Osmanen. Na een lange periode van verwoestende oorlogen smeedde de dynastie van de Safaviden (1501-1736) Perzië weer tot één geheel."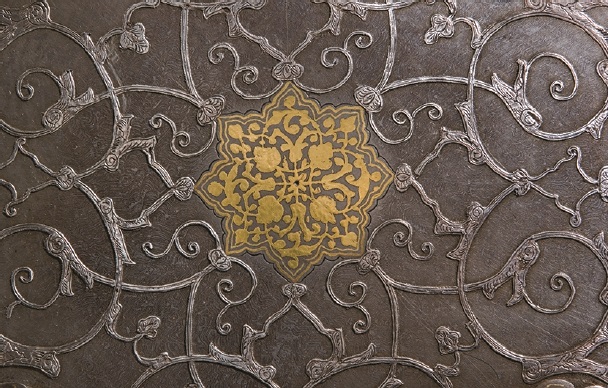 Safaviden stichtten een groot rijk en de sji'itische islam werd de staatsgodsdienst. In Perzië (Iran), tijdens de Safaviden-dynastie was er sprake van ongekende culturele bloei. Er werden magnifieke tapijten en kleurrijke stoffen gemaakt van luxe materialen. Perzische wapens en harnassen werden ingelegd met goud en zilver en weelderig versierd met arabesken, koranverzen en vrome gebeden. Deze geloofsuitingen moesten de zegen ontlokken en de strijders beschermen tegen gevaar.
'De Perzen, krijgers en dichters' is van 24 september 2015 t/m 28 maart 2016 te zien in het Wereldmuseum in Rotterdam. De tentoonstelling is samengesteld uit meer dan 100 objecten uit de collectie van Museo Stibbert in Florence en objecten uit de eigen collectie van het Wereldmuseum. Bij deze tentoonstelling wordt tevens een omvangrijke catalogus gepresenteerd.
UPDATE:
Video: Opening Tentoonstelling

* Volg "Persian Dutch Network" op Facebook
* DIGITALE NIEUWSBRIEF:
Mogen we u op de hoogte houden van PDN activiteiten?  Mail naar:  info@persiandutch.com
برگزاری نمایشگاه "ایرانیان: شاعر و جنگجو" در موزه دنیا در روتردام
موزه دنیا در روتردام از ۲۴ سپتامبر ۲۰۱۵ میزبان نمایشگاهی درباره تاریخ و هنر ایران خواهد بود. به گزارش «شبکه ایرانیان هلند»، این نمایشگاه با عنوان "ایرانیان: جنگجو و شاعر" روی دوران صفویان متمرکز است و تلاش دارد بازتاب فرهنگ و هنر ایران روی صنعت اسلحه سازی در ایران را بشناساند؛ جنبه ای از هنر ایران که به باورِ برگزار کنندگان این نمایشگاه، بر خلاف ادبیات، فرش و معماری ایرانی کمتر از آن صحبت می‌شود.ا
 نمایشگاه "ایرانیان؛ جنگجو و شاعر" با یاری موزه  ستیبرت در شهر فلورانس (ایتالیا) برگزار می‌شود و اشیای به نمایش درآمده عمدتا از مخزن این موزه به امانت گرفته شده است. کلاه‌خود و سپرهای دوران صفویان، مینیاتورهای نفیس وقرآن‌های  خطی از جمله آثاری هستند که در نمایشگاه برای علاقه‌مندان  به نمایش درخواهد آمد.ا
 نمایشگاه تا مارس ۲۰۱۶ در روتردام برپا خواهد بود. برگزارکنندگان در تلاش هستند تا در طول این مدت، برنامه‌های جنبی در پیوند با فرهنگ و هنر ایران نیز برگزار کنند.ا
به روز رسانی خبر:
بخشی ازمراسم گشایش نمایشگاه را تماشا کنید
گوشه‌هایی از نمایشگاه را تماشا کنید
به فیس بوک شبکه ایرانیان هلند بپیوندید
برای دریافت خبرنامه رایگان شبکه ایرانیان هلند به ما ایمیل برنید
info@persiandutch.com