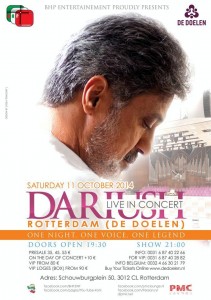 English Below – متن پارسی در ادامه
PDN – De Perzische popster Dariush komt naar Nederland om een concert te geven in de Rotterdamse Doelen.
Dariush is een van de meest populaire zangers in zijn thuisland. Hij leeft buiten zijn land sinds de Islamitische revolutie in Perzië (Iran) in 1979.
Sinds het begin van zijn carrière, in de vroege jaren '70, heeft Dariush samengewerkt met grote iconen in de Perzische popmuziek zoals Manouchehr Cheshmazar, Babak Afshar, Farid Zoland en Andranik.
Tijdens de periode van de Shah was Dariush meerdere malen gevangen gezet vanwege zijn protestliederen tegen de toenmalige politieke dictatorschap in Perzië maar na de revolutie moest hij emigreren naar de VS om zijn carrière voort te kunnen zetten. Tijdens de ballingschap bleef Dariush protestliederen zingen tegen het Islamitisch regime in Teheran; het lied "Beman Maadar…" (Blijf thuis, moeder) is hier een voorbeeld van.
In zijn Rotterdams concert zal Dariush een selectie van zijn populaire hits ten gehore brengen vanaf 1970 tot nu. Het concert vindt plaats op 11 oktober 2014 en is georganiseerd door BHP Entertainment in Nederland.
(Met dank aan Ernst M. Vennik)
– [ NIEUWS UPDATE: Video: Hoogtepunten van het concert in Rotterdam ]
* Kaart Bestellen : CONCERT |  Mega Afterparty
* De Facebook pagina van het concert (Link)
______________
* Volg "Persian Dutch Network" op Facebook
* DIGITALE NIEUWSBRIEF: Mogen we u op de hoogte houden van PDN activiteiten?  Mail naar:  info@persiandutch.com


 داریوش، خواننده محبوب ایرانی برای اجرای کنسرت به هلند می‌آید. به گزارش "شبکه ایرانیان هلند" این برنامه یازدهم اکتبر ۲۰۱۴ در تالار دِ دولِن در روتردام اجرا خواهد شد. در این کنسرت، داریوش تعدادی از مشهورترین ترانه‌های خود را برای علاقه‌مندان اجرا می‌کند.ا
داریوش که از سالهای آغازین دهه ١٩٧٠ فعالیت هنری خود را آغاز کرده، همکاری با شماری از سرشناس‌ترین چهره‌های وسیقی پاپ ایران مانند منوچهر چشم آذر، بابک افشار، فرید زولاند و آندرانیک را در کارنامه خود دارد. ایرج جنتی عطایی، شهیار قنبری و اردلان سرفراز نیز از جمله مشهورترین ترانه سرایانی هستند که در این سالیان با داریوش همکاری داشته‌اند.ا
کنسرت داریوش در روتردام توسط BHP Entertainment سازماندهی شده است.
[ به روز رسانی خبر: ویدئوی بخش‌هایی از کنسرت در روتردام ]
لینک سفارش بلیت — صفحه فیس بوک کنسرت
______________
* در هلند زندگی می‌کنید؟ به فیس بوک «شبکه ایرانیان هلند» بپیوندید https://www.facebook.com/pages/Persian-Dutch-Network/116994501660868?ref=br_rs
* برای دریافت خبرنامه ماهانه شبکه ایرانیان هلند به ما ایمیل بزنید:ا
info@persiandutch.com
DARIUSH
Voice of Persian Opposition Comes to Holland
PDN – Persian pop star Dariush will be performing at Rotterdam's De Doelen on 11th October 2014.
Despite living in exile in the United States since 1979 Islamic Revolution in Iran, Dariush remains one of the most popular performers in his homeland.
Since the beginning of his career, he has collaborated with many of the iconic figures of the Persian pop scene, including Manouchehr Cheshmazar, Farid Zoland, Babak Afshar, and Andranik. Iradj Janati-Atai and Ardalan Sarfaraz are also among the most famous lyricists who have worked with Dariush.
Dariush was imprisoned several times during the Shah's reign due to his protest songs, yet after the revolution he was forced to leave the country in order to continue his career. In exile, Dariush continued to perform protest songs. This time against Islamic government in Tehran; "Bring me home" [Maraa be Khaneám bebar…] is one of this works.
During his Rotterdam concert, Dariush will perform a selection of his popular hits. The concert has been organized by BHP Entertainment in Holland.
* ORDER TICKET HERE
* Join the Facebook Page of "Persian Dutch Network"
* To receive PDN monthly online newsletter send an e-mail to:
    info@persiandutch.com 


 NEWS UPDATE:  VIDEO: Highlights of the concert in Rotterdam: