.
 Nederlandse versie onder – Persian Text Below – متن پارسی در زیر
.
PDN, 8 Sep. 2012 – More than 50 Syrians and a group of Persians (Iranians) this afternoon demonstrated in front of Iran's Embassy in The Hague. Demonstrators placed the envelop of an protest letter in the embassy's mailbox. They demanded Iranian government to stop supporting Bashar Al-Assad regime in Syria.
Photo & Video: Saeid Shabani / Persian Dutch Network
.
بعدازظهر امروز، هشتم سپتامبر ۲۰۱۲ بیش از پنجاه نفر از شهروندان سوری مقیم هلند در برابر سفارت جمهوری اسلامی در لاهه گردهمایی اعتراضی برپا کردند. به گزارش «شبکه ایرانیان هلند»، در این حرکت، گروهی از ایرانیان ساکن هلند نیز شرکت کردند تا  با فعالان سوریه ابراز همبستگی کنند. معترضان، نامه‌ای نیز به درون صندوق سفارت ایران در لاهه انداختند و مقام‌های ایرانی خواستند به پشتیبانی خود از رژیم بشار اسد پایان دهد.ا
عکس و ویدئو: سعید شعبانی / شبکه ایرانیان هلند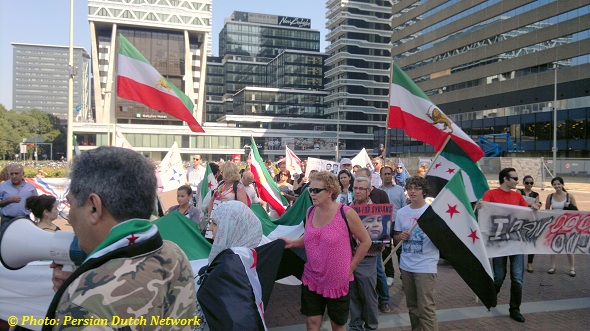 PDN – Meer dan 50 Syrische en een groep Perzische (Iraanse) demonstranten hebben vanmiddag voor de ambassade van Iran in Den Haag hun ongenoegen geuit over de Iraanse steun aan het Syrische regime.
Demonstranten hebben een envelop met protestbrieven in de brievenbus van de ambassade gedeponeerd en eisten dat de Iraanse regering de steun aan Bashar Al-Assad en het regime in Syrië intrekt.
– Volg PERSIAN DUTCH NETWORK op Facebook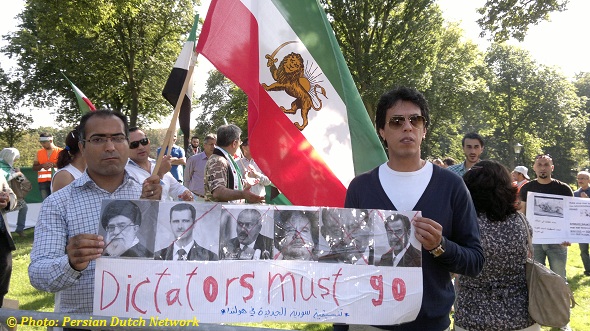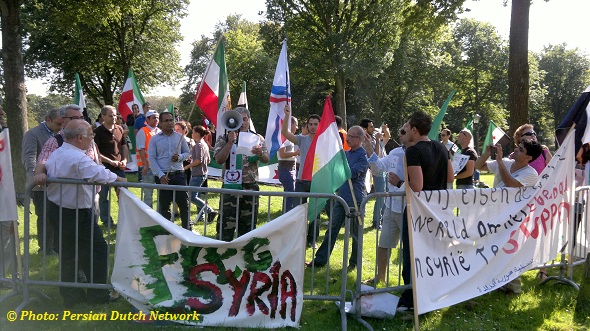 به فیس بوک شبکه ایرانیان هلند بپیوندید
Join the Facebook page of Persian Dutch Network
.