متن پارسی در پایان صفحه
PDN –  In Amsterdam vierden meer dan 50 Perzische Nederlanders de langste nacht van het jaar "YALDA".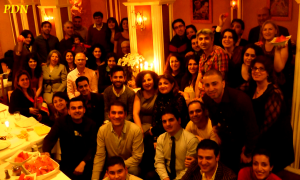 De ceremonie heeft haar oorsprong in oud-Perzië zo'n duizend jaar geleden. In Yalda nacht eten Perzen (of Iraniërs) watermeloen, granaatappel en studentenhaver en proberen zij plezier te hebben met dans en muziek. Het lezen van gedichten van Hafez, 14e eeuwse Perzische lyrische dichter, is een ander onderdeel van de Yalda Nacht viering..
Perzen in Nederland, die nogal actief zijn om hun oude tradities in leven te houden, waren op 17 december 2011 verzameld in een Perzisch restaurant in Amsterdam. Velen van hen brachten hun Nederlandse vrienden of partners als introducé mee naar "Yalda"..
De gebeurtenis werd georganiseerd door het Persian Dutch Network waarvan één van de hoofddoelen is om de Perzische cultuur in de Nederlandse samenleving te introduceren en Perzen en Nederlanders nader tot elkaar te brengen..
Bekijk de Hoogtepunten van Yalda Nacht in Amsterdam!
PDN – In Amsterdam more than 50 Dutch-Persians celebrated the longest night of the year "YALDA".
The ceremony has its roots in ancient Persia and thousands years ago. Persians (or Iranians) in Yalda night eat watermelon, pomegranate, trail mix and try to have fun with dance and music. Reading the poems of Hafez, 14th-century Persian lyric poet, is another part of Yalda Nigh celebration.
.
Persians in Holland, who are quite active to keep alive their ancient traditions, on 17 Dec. 2011 were gathered in a Persian restaurant in Amsterdam. Many of them event had brought their Dutch friends or partners to introduce "Yalda" to them.
The event was organized by
Persian Dutch Network
which one of its main goals is introducing Persian culture to the Dutch society and make Persians and Dutch closer to each other.
.
PERZISCH:
بیش از پنجاه نفر از ایرانیان مقیم هلند، شب یلدا را در آمستردام گرامی داشتند. این جشن کهن، شنبه شب، هفدهم دسامبر ۲۰۱۱ در یکی از رستوران‌های ایرانی در آمستردام گرامی داشته شد؛ همراه با رقص و موسیقی، چلوکباب، انار و هندوانه خوری و حافظ خوانی. برخی از حاضران، دوستان هلندی خود را نیز برای شناساندن شب یلدا به آنها به جشن آورده بودند
این برنامه را "شبکه ایرانیان هلند" هماهنگ کرده بود که از اهداف اصلی‌اش، شناساندن فرهنگ ایران به هلندی‌ها و نزدیک‌تر کردن ایرانیان و هلندیان به هم است
ویدئوی کوتاهی از شب یلدای ایرانیان هلند را در همین صفحه می‌توانید ببینید
به فیسبوک شبکه ایرانیان هلند بپیوندید  / VOLG ONS OP FACEBOOK