متن پارسی در زیر
Sixth Annual Sadighi Lecture by Hamid Naficy on the recent history of Iranian cinema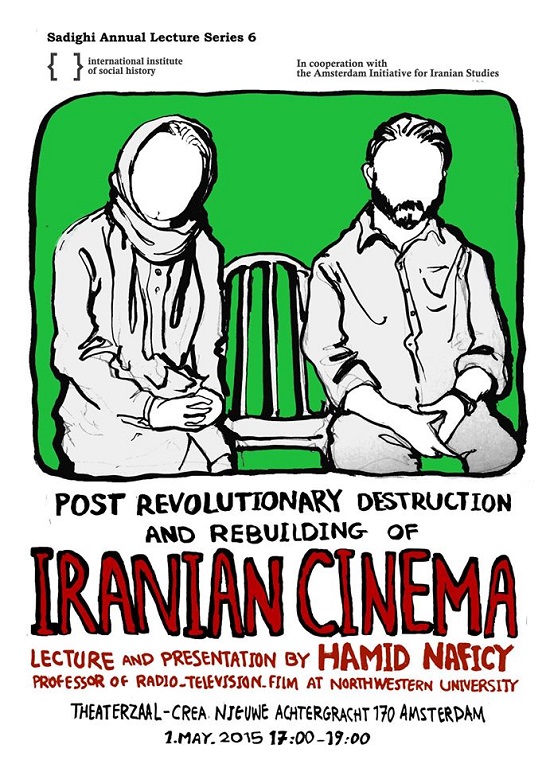 1 May 17:00–19:00  | CREA (Nieuwe Achtergracht 170, 1018 WV Amsterdam)
Free Entrance
Iranian cinema has gained worldwide recognition, winning many prizes at prestigious film festivals. It has gone, however, through some turbulent decades. Toward the end of the Shah's rule, movies and movie houses became targets of a rising oppositional movement, resulting in the destruction of a third of all movie houses nationwide. In this talk, professor Hamid Naficy shows a number of film fragments, focusing on such revolutionary destruction and the subsequent rebuilding and evolution of the film industry. Many film personnel were sidelined, banned, arrested, deprived of property, or exiled.
The star system, a major attraction of the popular 'film farsi' cinema, was dismantled. Movies were banned, cut, redubbed, and painted over to remove offending features. After such iconoclastic destructions and 'purification' the new Islamic regime undertook a wide-ranging effort to institutionalize a new film industry whose values would be commensurate with the newly formulated Islamicate values.
The long war with Iraq, the gendered segregation of space, and the imposition of the veil on women encouraged certain ideological and aesthetic trends. Foremost was the reconceptualization of cinema from a despised agent of corruption and othering to an agent of nation building and selfing. However, the resulting Islamicate cinema and culture are neither homogeneous nor static. They evolved with considerable personal, institutional, and ideological struggles.
About Professor Hamid Naficy
Hamid Naficy is Professor of Radio-Television-Film and the Hamad Bin Khalifa Al-Thani Professor in Communication at Northwestern University, where he also has an appointment with the Department of Art History. He is a leading authority in cultural studies of diaspora, exile, and postcolonial cinemas and media and of Iranian and Middle Eastern cinemas. Naficy has published and lectured extensively, nationally and internationally, on these and allied topics.
His English language books are: An Accented Cinema: Exilic and Diasporic Filmmaking; Home, Exile, Homeland: Film, Media, and the Politics of Place; The Making of Exile Cultures: Iranian Television in Los Angeles; Otherness and the Media: the Ethnography of the Imagined and the Imaged (co-edited); and Iran Media Index. His latest work is the award-winning four-volume book A Social History of Iranian Cinema, published in 2011-12. He has also published extensively in Persian, including a two-volume book on the documentary cinema theory and history, Film-e Mostanad. He has also produced and directed many educational and documentary films.


The event has been organized by the International Institute of Social History, in cooperation with the Amsterdam Initiative for Iranian Studies.
For details follow the Facebook page of the event.
* Join the Facebook Page of Persian Dutch Network (PDN)
* * To receive PDN monthly  free online newsletter send an e-mail to:
    info@persiandutch.com
سخنرانی درباره سینمای ایران در آمستردام : یکم می
یکم می در ۲۰۱۵ مرکز فرهنگی CREA  وابسته به دانشگاه آمستردام یک سخنرانی درباره سینمای ایران برگزار می‌شود. سخنران در این برنامه، حمید نفیسی است که چندین کتاب به پارسی و انگلیسی درباره سینمای ایران از او منتشر شده است.
نفیسی که در زمینه مستند سازی نیز فعالیت دارد، در سخنرانی خود به تاثیر انقلاب، جنگ، مهاجرت و سانسور در سینمای ایران خواهد پرداخت.
برای اطلاعات بیشتر درباره زمان و محل سخنرانی به متن انگلیسی بالا توجه فرمایید.
به فیس‌بوک شبکه ایرانیان هلند بیپوندید
برای دریافت خبرنامه رایگان شبکه ایرانیان هلند به ما ایمیل بزنید:ا
info@persiandutch.com