متن پارسی در ادامه / English Text Below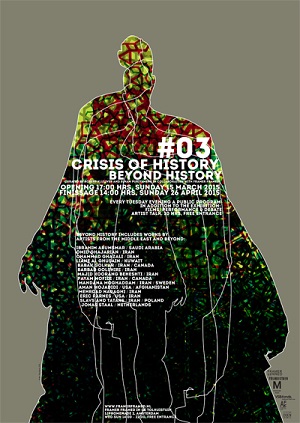 15 maart – 26 april 2015
Beyond History onderzoekt het posthistorische landschap in het Midden-Oosten. De tentoonstelling is het sluitstuk van Crisis of History, een tentoonstellingsreeks waarin de eenduidigheid van 'het Grote Verhaal van de Geschiedenis' en ideologische conflicten onder de loep worden genomen.
In deel een en twee van de reeks werd de constructie van deze vertelling onderzocht en de manieren waarop kunstenaars zich daartegen verzetten. Deze laatste expositie heeft als vertrekpunt de ineenstorting van 'het Grote Verhaal'. Leidend is de vraag: hoe kunnen we ons verhouden tot verleden, heden en toekomst buiten het normatieve raamwerk van de geschiedenis?
Curator Elham Puriyamehr schetst dat kunstenaars in Perzië (Iran) zich bewegen tussen enerzijds het verhaal van 'het Westen', anderzijds het historisch narratief zoals hun eigen regering dat vormgeeft. Beide zijn in hun ogen failliet: ze bieden troost in het heden noch hoop voor de toekomst.
Volgens curator Robert Kluijver ontdekken kunstenaars aan de andere kant van de Perzische Golf de rijkdom van het pre-islamitische verleden –  een geschiedenis die voor hen verborgen wordt gehouden vanwege de heersende religieuze ideologie en politieke belangen. Hoe zou het zijn als zij de band met dat verleden konden herstellen en zich ontworstelen aan de verstikkende collectieve identiteit die de geschiedenisboeken hen voorschrijven?
En hoe zou het zijn als de geschiedenis wordt herschreven, nu, buiten het oog van de media? Het is een uiterste mogelijkheid, die in Beyond History nader wordt onderzocht.
Meer informatie over het werk van de kunstenaars is te lezen op www.crisisofhistory.nl
OPENING: Zaterdag, 15 maart 2015, 17:00
LEZING: Dinsdag, 17 maart, 20:00 (Facebook Evenement Pagina)
 Hamid Severi: A Glimpse of the Notion of History in Contemporary Iranian Art
Farzan Sojoodi: Works of Art: Field of Discursive Struggle
Lokatie: Framer Framed in de Tolhuistuin IJpromenade 2 Amsterdam
* Volg "Persian Dutch Network" op Facebook
* DIGITALE NIEUWSBRIEF: Mogen we u op de hoogte houden van PDN activiteiten?  Mail naar:  info@persiandutch.com
_______________

PERSIAN ARTISTS IN AN EXHIBITION IN AMSTERDAM
15 March – 26 April 2015

Beyond History explores the post-history landscape in the Middle East. It is the final part in the Crisis of History series, where the effects on this region of the ideological imposition of 'the great historical narrative' developed in 'the West' are examined. The first two exhibitions of this series examined the effects of this imposition and the strategies of resistance deployed by artists in response. The last exhibition takes as its departure point the crumbling of this supposed great historical narrative and is guided by the question: how can we deal with the past, present and future outside the normative framework offered by history?
Within this examination of a plurality of possibilities for future narrations on these timeframes, Beyond History focuses on differences and similarities in historical stories considerably stemming from the Persian Gulf region, and Iran and Saudi Arabia in particular.

According to curator Elham Puriyamehr artists in Persia (Iran) must deal with two great historical narratives: those followed by the West and their own government. In their eyes, both may already be bankrupt, as they offer no comfort in the present or hope for the future. As a result, many of them investigate death or absence as a way to freedom, or they develop uncertain micro-narratives that draw history to question. The artists distinguish between issues and their representations: the past versus history, for example.
Curator Robert Kluijver states that on the other side of the Persian Gulf, Arabian artists are discovering a rich pre-Islamic history, which is being hidden from them for reasons of religious ideology and political convenience. What if they could reconnect to that history, and throw off the mantle of stifling collective identity, which their history books prescribe?
More Information on the artists and exhibition: LINK
Opening night March 15th, 17.00
Exhibition runs from March 15 – April 26 2015
Wed – Sun; 14.00 – 22.00 hrs
LECTURES:
Tuesday, 17 March, 20:00 (Event Facebook Page)
 Hamid Severi: A Glimpse of the Notion of History in Contemporary Iranian Art
Farzan Sojoodi: Works of Art: Field of Discursive Struggle
Location: Framer Framed in de Tolhuistuin, IJpromenade 2, Amsterdam
* Join the Facebook Page of Persian Dutch Network (PDN)
* * To receive PDN monthly  free online newsletter send an e-mail to:
    info@persiandutch.com
_____________
کارهای هنرمندان ایرانی در نمایشگاه «فراتر از تاریخ»
از پانزدهم مارس در آمستردام در گالری «فِرامِر فِرامِد» نمایشگاه «فراتر از تاریخ» آغاز به کار خواهد کرد. این نمایشگاه ویژه هنرمندان خاورمیانه است و بخش بزرگی از آثار از هنرمندان ایرانی است.
به گزارش «شبکه ایرانیان هلند» الهام پوریامهر از ایران و روبرت کلیفر از هلند که متخصص بررسی آثار هنرمندان منطقه خلیج فارس است این برنامه را با یاری گالری «فِرامِر فِرامِد» سازماندهی کرده‌اند.
نمایشگاه تا ۲۶ آوریل ۲۰۱۵ در پایتخت هلند برپا خواهد بود. ورود برای علاقه‌مندان رایگان است. برای جزییات بیشتر درباره هنرمندان و نمایشگاه از تارنمای ویژه آن دیدن کنید: "پیوند" 
به فیس‌بوک شبکه ایرانیان هلند بیپوندید
برای دریافت خبرنامه رایگان شبکه ایرانیان هلند به ما ایمیل بزنید:ا
info@persiandutch.com
[DISPLAY_ACURAX_ICONS]