English Below – متن پارسی در ادامه
Vrijdag | 30 januari 2015 | 20:15 | Muziekgebouw | Grote Zaal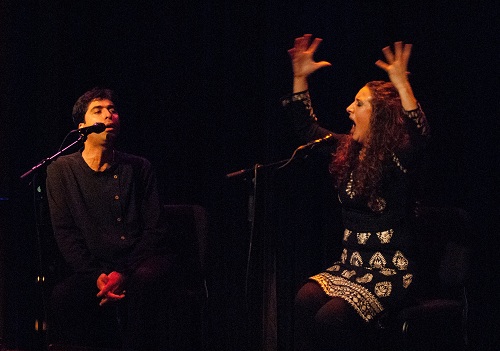 Een muzikale ontmoeting tussen zangeres Rosario La Tremendita en Mohammad Motamedi. De jonge Sevillaanse zoekt naar de wortels van de flamenco in de rijke melodische versieringen en improvisaties van zanger Motamedi.
Gezongen Spaanse volkspoëzie en Perzische kunstmuziek, vermengd tot een klankwereld waarin het oude Al-Andalus (Andalusië) zich misschien even laat horen.
East meets East: na de pauze gaat de Perzische kamancheh-virtuoos Kayhan Kalhor de dialoog aan met Erdal Erzincan, meester van de Turkse langhalsluit. In zinderende improvisaties komen de oude muzikale tradities tot nieuw leven. (Lees meer…)
* Volg "Persian Dutch Network" op Facebook
* DIGITALE NIEUWSBRIEF: Mogen we u op de hoogte houden van PDN activiteiten?  Mail naar:  info@persiandutch.com


double bill: qasida | east meets east
Double concert Flamenco & Orient
Qasida: an extraordinary musical encounter between the young Sevillian cantaora Rosario 'La Tremendita' and her Persian peer Mohammad Motamedi. In Qasida the singer explores the roots of flamenco in the richly varied poetic songs and improvisations of Motamedi, the young singer of Persian classical music. Songs of Spanish folk poetry and Persian high art merge into a musical world in which the 'Al-Andalus' of old is perhaps briefly revived.
East meets East: after the break the Persian kamancheh virtuoso Kayhan Kalhor will engage in a dialogue with Erdal Erzincan, master of the Turkish long-necked lute. (Read More…)
 * Join the Facebook Page of Persian Dutch Network (PDN)
* * To receive PDN monthly  free online newsletter send an e-mail to:
    info@persiandutch.com 
هنرمندان ایرانی در دوسالانه فلامینکوی آمستردام
 سی ام ژانویه در تالار بزرگ موزیکخباو در آمستردام ، دو هنرمند ایرانی برنامه خواهند داشت: محمد معتمدی، خواننده و کیهان کلهر، تکنواز کمانچه. این برنامه به صورت بخشی از دوسالانهء فلامینکو در هلند برگزار می‌شود.
به گزارش شبکه «ایرانیان هلند»، در بخش نخست برنامه، محمد معتمدی همراه با رُزاریو لا ترمندیتا، خواننده اسپانیایی و گروهی از نوازندگان ایرانی و اسپانیایی اجرا خواهند داشت. این بخش "قصیده" نام گرفته و در آن اشعار پارسی و اسپانیایی در پیوند با یکدیگر ارائه می‌شوند.
بخش دوم کنسرت ویژهء همنوازی کیهان کلهر، استاد موسیقی ایرانی با اِردال ارزینجان، استاد باغلاما و موسیقی ترکی است.
این برنامه، آدینه شب، ساعت هشت و پانزده دقیقه آغاز می‌شود.
* در هلند زندگی می‌کنید؟ به فیس بوک «شبکه ایرانیان هلند» بپیوندید
* برای دریافت خبرنامه ماهانه شبکه ایرانیان هلند به ما ایمیل بزنید
info@persiandutch.com