Nederlandse Versie Onder / متن پارسی در زیر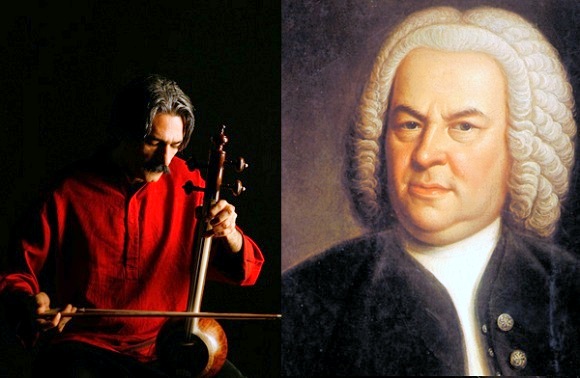 PDN – In October 2014 the Netherlands Wind Ensemble (NBE) will start a tour with the Persian music maestro and kamancheh soloist Kayhan Kalhor.
NBE has recently begun a project collaboration with musicians from non-Western cultures. The project "Bach in Persia" combines Western classical music with the ancient Persian melodies played on kamancheh, which is a traditional music instrument from Persia (Iran).
"Bach in Persia" will be presented in the cities Amsterdam, Arnhem, Enschede, Groningen, Haarlem, Tilburg and Wageningen. In addition to a performance of Bach's Goldberg Variations, the performance will feature a piece commissioned for this project composed by the Persian-Dutch composer Reza Namavar.
( NEWS UPDATE:  Video: Highlights of the concert in Amsterdam Paradiso – Review on BBC Persian Service by Pejman Akbarzadeh)
* Join the Facebook Page of Persian Dutch Network
* * To receive PDN monthly online newsletter send an e-mail to:
    info@persiandutch.com 
Van 2 oktober t/m 12 oktober is het Nederlands Blazers Ensemble samen met Kayhan Kalhor te zien in Amsterdam, Enschede, Arnhem, Groningen, Haarlem, Wageningen en Tilburg met het programma Bach in Perzië: de Goldbergvariaties van Bach gecombineerd met de oeroude melodieën uit Perzië.
De ontmoeting van het NBE met de befaamde Perzische kamancheh speler Kayhan Kalhor zou wel eens een hoogtepunt kunnen worden in de lange reeks van roemruchte NBEconcerten met musici uit andere muziekwerelden.
Kayhan Kalhor bedwelmt en betovert met de diepe sonore klank van zijn kemenche. Het NBE combineert de oeroude melodieën uit Perzië (Iran) meteen maar met het beste dat de Westerse klassieke muziek te bieden heeft: de Goldbergvariaties van Bach.
De Perzisch-Nederlandse componist Reza Namavar heeft alle variaties op eigenzinnige wijze gearrangeerd. Daarnaast heeft hij speciaal voor het NBE zes nieuwe variaties op het welbekende thema van Bach. Kayhan Kalhor speelt op zijn beurt de variaties op het thema op zijn typische Perzische wijze.
[ NIEUWS UPDATE: Video: Hoogtepunten van het concert in Amsterdam – Concertrecensie door Pejman Akbarzadeh op Perzische BBC ]
* Kaart Bestellen
* Volg "Persian Dutch Network" op Facebook
* DIGITALE NIEUWSBRIEF: Mogen we u op de hoogte houden van PDN activiteiten?  Mail naar:  info@persiandutch.com
«باخ در ایران»: همکاری میان نوازندگان ایرانی و هلندی
«باخ در ایران» عنوان پروژه‌ای است میان نوازندگان ایرانی و هلندی. در این طرح، «گروه سازهای بادی هلند» (NBE) همراه با کیهان کلهر، تکنواز کمانچه و استاد موسیقی ایرانی در هفت شهر هلند برنامه اجرا می‌کنند.
به گزارش شبکه ایرانیان هلند، «گروه سازهای بادی هلند» که از گروه‌های سرشناس موسیقی در این کشور به شمار می‌رود به تازگی همکاری خود را با موسیقی‌دانان دیگر فرهنگ‌ها آغاز کرده است. در پروژه «باخ در ایران» (Bach in Perzië) این گروه با اجرای "واریاسیون‌های گُلدبرگ" اثر باخ و بداهه نوازی کیهان کلهر، در تلاش برای ایجاد پیوندی میان نواهای باستانی ایران و موسیقی کلاسیک غرب است.
این برنامه از آغاز ماه اکتبر در شهرهای آمستردام، آرنهم، هارلم، تیلبورخ، واخنینگن، انسخده و خرونینگن اجرا خواهد شد. برای دیدن فهرست اجراها و تهیه بلیت، از تارنمای «گروه سازهای بادی هلند» بازدید کنید.
* در هلند زندگی می‌کنید؟ به فیس بوک «شبکه ایرانیان هلند» بپیوندید
* برای دریافت خبرنامه ماهانه شبکه ایرانیان هلند به ما ایمیل بزنید:
info@persiandutch.com
:(به روز رسانی خبر)
– نقد کنسرت نوشته پژمان اکبرزاده در تارنمای بخش پارسی بی.بی.سی
– ویدئوی کوتاهی از اجرای کنسرت در آمستردام:
(ویدئو: شبکه ایرانیان هلند)