.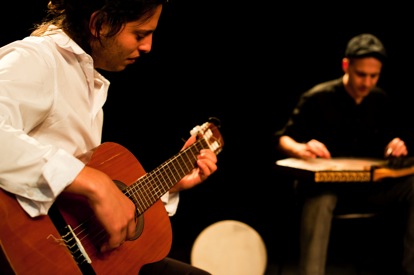 Two young artists meet. One is an Israeli, the other an Iranian. Sworn enemies, or possible best friends?
THEATER: "KINGDOM OF FIRE AND CLAY"
After each performing separate but highly successful shows at the International Storytelling Festival Amsterdam in 2012, Sahand Saheb-Divani and Raphael Rodan decided to combine forces and create a show delving into their pasts, their cultures and the source of enmity between their countries.
The Kingdom of Fire and Clay combines classical Jewish and Persian tales with the personal modern-day stories of Raphael Rodan (Israel) and Sahand Sahebdivani (Iran). Spoken texts are punctuated and accompanied by the music of Anastasis Sarakatsanos and Bas Kisjes. Moments of friction alternate with mutual intimacy.
The show premiered at the International Storytelling Festival Amsterdam in November 2013 and had a short tour in the Netherlands. Performances will be held in Amsterdam and The Hague in February 2014, followed by a longer tour in the UK in March.
The Kingdom of Fire and Clay is a performance by Sahand Sahebdivani, Raphael Rodan, Anastasis Sarakatsanos and Bas Kisjes.
In October 2012 STET featured Raphael and Anastasis in the show When Abel met Cain, which was to great acclaim staged in The Hague's Humanity House.
Produced by the International Storytelling Festival of Amsterdam. The language of the event is English.
DATE AND TIME : 7 & 8 February 20.30 | LOCATION : Branoul Theater
Maliestraat 12, 2514 CA Den Haag (10 minutes walk from Den Haag Centraal)
RESERVATIONS
Tickets:  Full price: € 17,50 &  CJP and Students: € 7,50 / Discount available for groups
ONLINE reservations in the STET Ticketshop or by telephone T 06 30050018
Source: STET
Join the Facebook Page of Persian Dutch Network
UPDATE: A Review on this theater by Pejman Akbarzadeh has been published on BBC Persian website.
.