.
Source:  Utrechts Nieuwsblad (08-10-1951)

Mossadegh was the prime minister of Persia (Iran) from 1951 to 1953.
 His government was overthrown in a coup d'État organized by the British MI6 and the CIA. Mossadegh government's most notable policy was the nationalization of the Persian oil industry, which was under British control since 1913 through the Anglo-Persian Oil Company.
Follow Persian Dutch Network on Facebook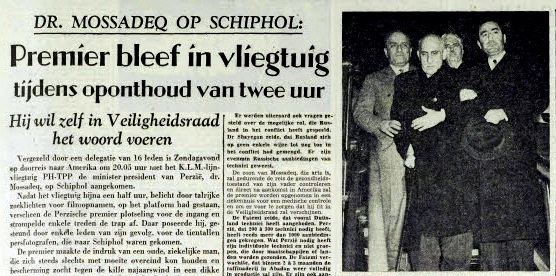 Dr Mohammed Mossadeq (1882 – 1967) was de democratisch gekozen premier van Perzië (Iran) tussen 1951 en 1953, totdat hij door een Amerikaanse staatsgreep uit de macht ontzet werd.
Mossadeq nationaliseerde de Perzische olie, tot afgrijzen van de Britten.

Foto Bron:   Utrechts Nieuwsblad (08-10-1951)