PERZ.
بیست‌ و دومین همایش سالانه بنیاد مطالعات زنان ایرانی، در هلند برگزار خواهد شد. این همایش، در روزهای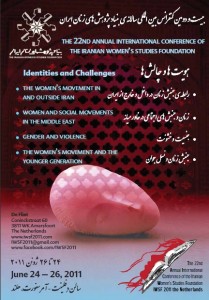 ۲۴، ۲۵ و ۲۶ ژوییه ۲۰۱۱ در شهر آمرسفورت در جریان است. در روز نخست، سخنرانی‌ها به زبان انگلیسی و در روزهای دوم و سوم، برنامه به پارسی ارائه خواهد شد
NL.
De 22e jaarlijkse internationale conferentie van vrouwen uit de Iraanse diaspora wordt dit jaar gehouden in Amersfoort.
Culturele programma's (tentoonstelling, dans en muziek) zijn onderdeel van het programma.
De IWSF (Iranian Women's Studies Foundation) is in 1990 opgericht door Iraanse vrouwelijke wetenschappers en activisten in Amerika met het doel vrouwenrechten in Iran [Perzië] kritisch te volgen.
Al 22 jaar wordt jaarlijks in verschillende steden in Europa, Amerika en Canada een driedaagse
conferentie gehouden die veel mensen uit diverse landen aantrekt. Onder de deelnemers bekende academici, politici, activisten o.a. Shirin Ebadi, Janet Afary, Catherine Bateson, Rakhshan Bani Etemad, Simin Behbahani, Maurice Copithorne, Angela Davis, Parvaneh Forouhar, Genevieve Fraise, Amy Goodman, Shahrnush Parsipur, …

Dit jaar wordt de conferentie georganiseerd in samenwerking met de NIVS (Stichting Netwerk Iraanse vrouwenstudies in Nederland) met als thema: Identiteit en Uitdaging. Subthema's zijn:
– Vrouwenbewegingen binnen Iran en buiten Iran.
– Vrouwen en sociale bewegingen in het Midden Oosten
– Jongeren en vrouwenbeweging
– Gender en geweld
Dit jaar verwachten wij zoals voorgaande jaren ongeveer 500 bezoekers. Er wordt speciaal aandacht besteed aan de vrouwenbeweging in het Midden-Oosten door middel van een panel met als thema:
'Vrouwen en de recent sociale bewegingen in het Midden-Oosten'. Het panel bestaat uit Amal van Hees, Director van Bridging the Gulf, Foundation for Human Security in the Persian Gulf region.
– Dr. Naima Azough, Senior adviseur, Culture, UN Population Fund.
– Dr. Halleh Ghorashi, professor of Managing Diversity and Integration, VU University Amsterdam en Omaima Koz Noor, Egyptische socioloog, voorzitter van de stichting "Promotion through the efforts of Arabic and Turkish Women" in the Netherlands.
Datum: 24, 25 & 26 juni 2011
Tijd aanvang: 10:00 uur
Locatie: De Flint, Coninckstraat 60, 3811 WK Amersfoort
Op vrijdag 24 juni wordt de conferentie in het Engels gehouden, op de andere twee dagen is de voertaal Perzisch.

Contact: Mw. Kobra Ghassemi
Telefoonnummer: 06 36 20 71 34